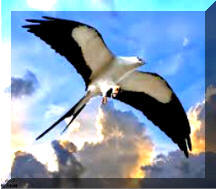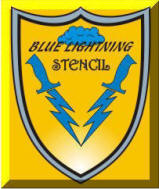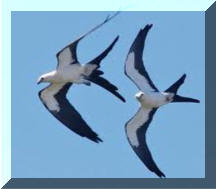 The Magnificent Swallowtail Kite

made in USA
---
KnifeMaker Fingerprint 1 KnifeMaker Fingerprint 2 KnifeMaker Fingerprint 3
Blue Lightning Etch Customer's Personal Stencil Addition
Blue Lightning Tips Etch your logo into Damascus Etching Power Supply
Blue Lightning Stencil: Price List
Bowies page 1 Bowies page 2 Lockback Folders
Links Tutorials Stabilized Leather Moose Antler Stabilized
How to etch your Logo into your knife
HARD Felt Knife Honing Wheel Leather Stamp Custom Logo
Contact via email: shrpknife@aol.com
---
STABILIZED LEATHER BLOCKS
Home-Brewed...First and Finest in the WORLD !!
The Stabilized Leather Blocks are for use on a Through Tang Knife with a pommel.
The Stabilized Leather can also be easily used as spacers on a full tang knife
Spacer use is also a great way to naturally enhance the knife handle
For more information email your question. shrpknife@aol.com
---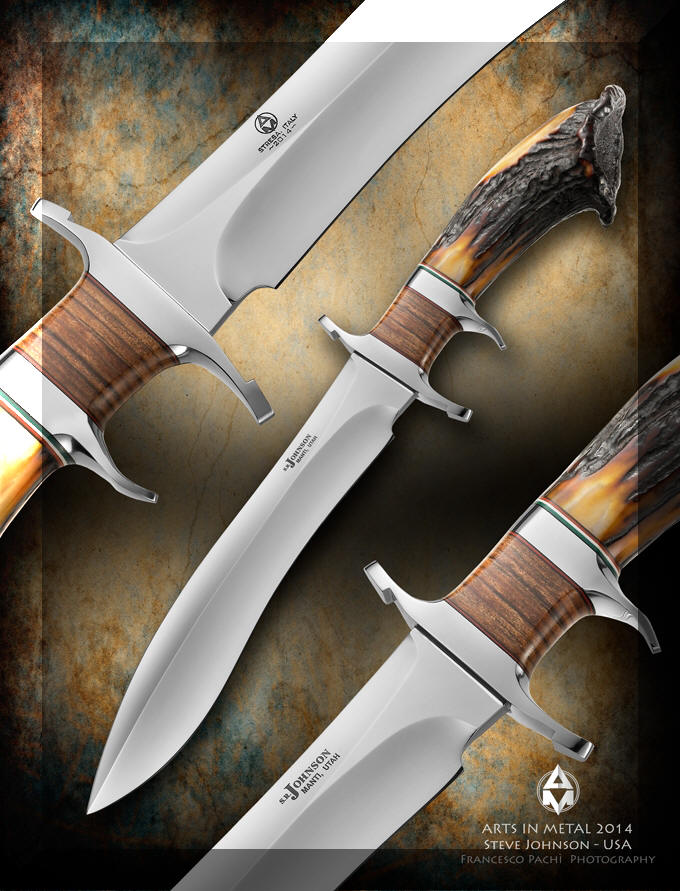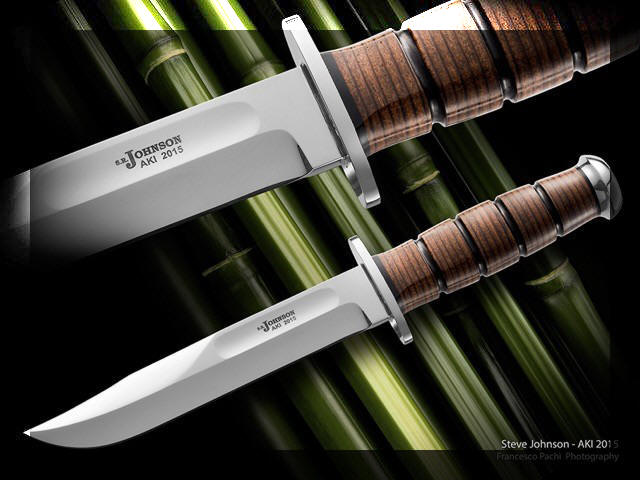 These knives were made by Steven R. Johnson using the stabilized Leather as spacers
With His permission. This is Steven's opinion on using the stabilized leather
"I loved working with and the look of the stabilized leather and can tell you that I will
never use the old, "one-leather-washer-at-a-time" method that I used to use. It worked exactly
as you said it would and was a pleasure to use and it made everything easier during the assembly
and finishing of the handle! It is nice to grind and shape and sand/buff and it gives a dyed finish
that's great. "
Steven R. Johnson, Knifemaker
Web Site: http://www.srjknives.com
---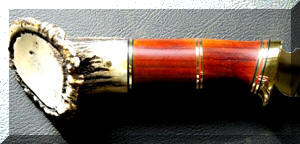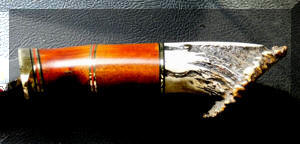 The above knife is a small "Bill Scagel" style hunter knife handmade by
Gil Hibben, MS
He used the stabilized leather in the "Opposite direction with the rings/grain facing up and down
from the guard to the pommel and He said it looks like wood
and He is really pleased with it".
Quote and pictures from Mrs. Gil Hibben
---

This Knife was handmade by John Travers, Scotland, Unite Kingdom
"I've just finished a skinning knife, for a customer, using your stabilized leather as a spacer.
I'm impressed with the finish, dyed with Fiebing's oil dye & then polished.
It is also very easy to work with & not messy like other stabilized products
that produce a fine powder when finishing.
This is a bonus as we all hate dust! I've used a small block between
fibre washers & brass with desert ironwood for the rest.
I hope you like the finished result as much as I do & I'm sure my customer
will be very pleased! I will certainly recommend your product to my friends
in the knife-making community.
Feel free to use the pic's if you deem them suitable!"
---
NO AVAILABLE STABILZED LEATHER BLOCKS
Stabilized Leather Blocks are HandMade
for use on a Through Tang Knife with a pommel.
Stabilized Natural Vegetable Tanned Leather Block.
They will accept limited dye and will polish excellently.
I use Fiebings dye....color your choice.
This blocks can also be cut for your handle spacers.
Just use a bandsaw or a knife to split it apart.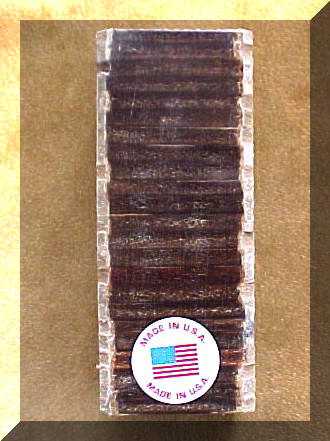 SAMPLE BLOCK
The Leather is squared with an end mill.
The edges are left rough. The block can be used as spacers or a through tang knife.
---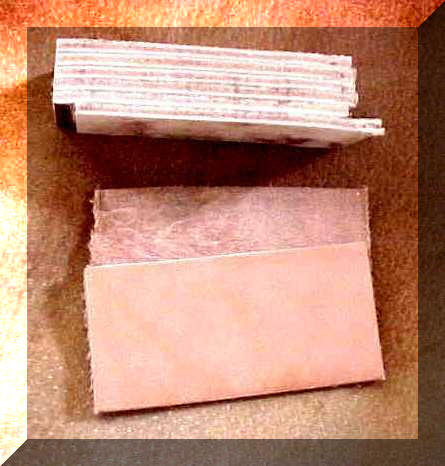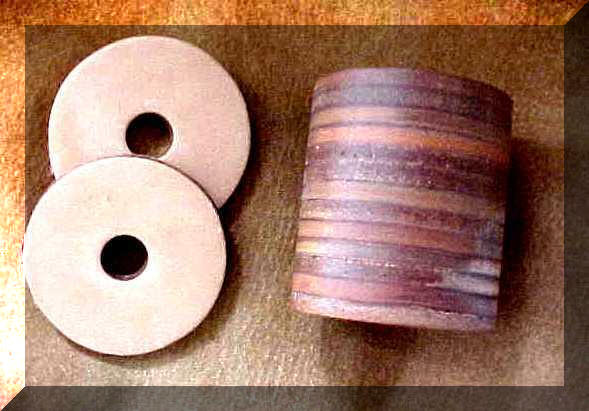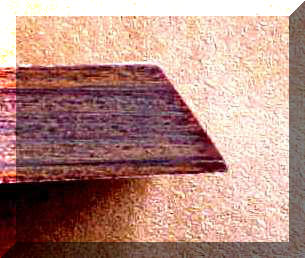 Rectangle block is 3.5" length X 1.250" Width X .850" Thick.
Leather cylinder is 2.250" Diameter with .500" Hole and is 2.50" High.
Picture on the right is stabilized leather sanded down to fit a bolster with that angle.
The leather could be ground so the leather was 90 degrees different ....you choice
The edge is sharp....OUCH !!
The leather is attached any way you want...... usualy 2 ton Epoxy adhesive.
It was dyed with "Buckskin"All sizes vary with grinding, drilling, sanding, dying, polishing etc.
NEW System will produce
TOP,FIRST CLASS PREMIUM material.
It can be used for through tang or slab handle spacers .
You can leather dye it in the color you want to use…Buckskin excellent
( my opinion )
---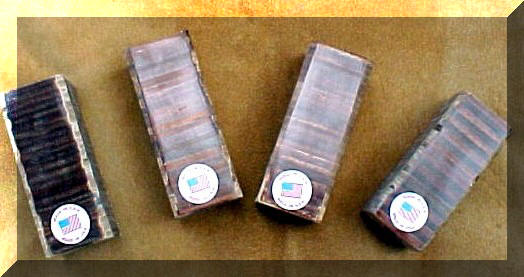 Block #1 on left is 1.750" square by 4 inches long with a 1/2" center/tang hole.
Block #2 following is 1.750" square by 4.5 inches long with a 1/2" center/tang hole.
Block #3 following is 1.750" square by 4.375 inches long with a 1/2" center/tang hole.
Block #4 following is 1.750" square by 4 inches long with a 1/2" center/tang hole.
---
Tested Stabilized Leather Below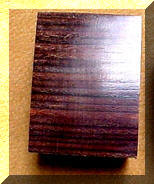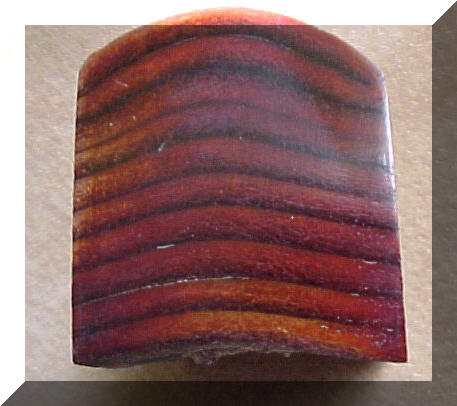 This next test piece of Stabilized
Natural Vegetable Tanned Leather is 1/2 inch thick.
The file work is made with a round file in a rope pattern.
No dye has been added.
It has just been buffed.

For the test Leather handle material pieces of
vegetable tanned leather, from Weaver Leather were used.
The pieces were 1.5" X 2.0".
After the stabilization it was sanded down to 400 grit.
Then dyed it with Fiebing's Professional oil dye.
Next added some Fiebing's Bag-Kote and polished it with a
white rouge soft buffing wheel.
The large bottom block is the same leather but is larger....1.750" X 2.750" X 5.00".
I made this leather block to be used as a stabilized leather knife handle.
It will be shaped the same way as you would use for a wood knife handle.
The very small piece on top is stabilized leather perhaps for use as a fob.
ALERT:
There are additional steps involved when stabilizing vegetable tanned leather.
---
PROUDLY SERVING THE WORLD

Brazil, ALABAMA, ALASKA, ARIZONA, ARKANSAS, AUSTRIA, AUSTRALIA, BELGIUM, BULGARIA,
CALIFORNIA, CANADA, CZECH REPUBLIC, COLORADO, CONNECTICUT, Costa Rico, CROATIA.
DELAWARE, ENGLAND, FLORIDA, FRANCE, GEORGIA, GREECE,
HAWAII, ICELAND, IDAHO, ILLINOIS, INDIANA, IOWA, IRELAND, ISRAEL, JAPAN, KANSAS, KENTUCKY,
LOUISIANNA MAINE, MARYLAND, MASSACHUSETTS, MICHIGAN, MINNESOTA, MISSISSIPPI, MISSOURI, MONTANA,
NEBRASKA, NETHERLANDS, NEVADA, NEW HAMPSHIRE, NEW JERSEY, NEW MEXICO, NEW SOUTH WALES,
NEW YORK, NEW ZEALAND, NORTH CAROLINA, NOVA SCOTIA,
OHIO, OKLAHOMA, OREGON, PENNSYLVANIA, RHODE ISLAND, PORTUGAL,
SCOTLAND, SINGAPORE, SOUTH CAROLINA, SOUTH DAKOTA, SWEDEN, SWITZERLAND, THAILAND,
TASMANIA, TENNESSEE, TEXAS, UNITED KINGDOM, UTAH, VIRGINIA, WALES,
WASHINGTON, WEST VIRGINIA, WISCONSIN, and WYOMING.